Chinantla Restaurant
657 Myrtle Ave, Brooklyn, NY 11206
Order now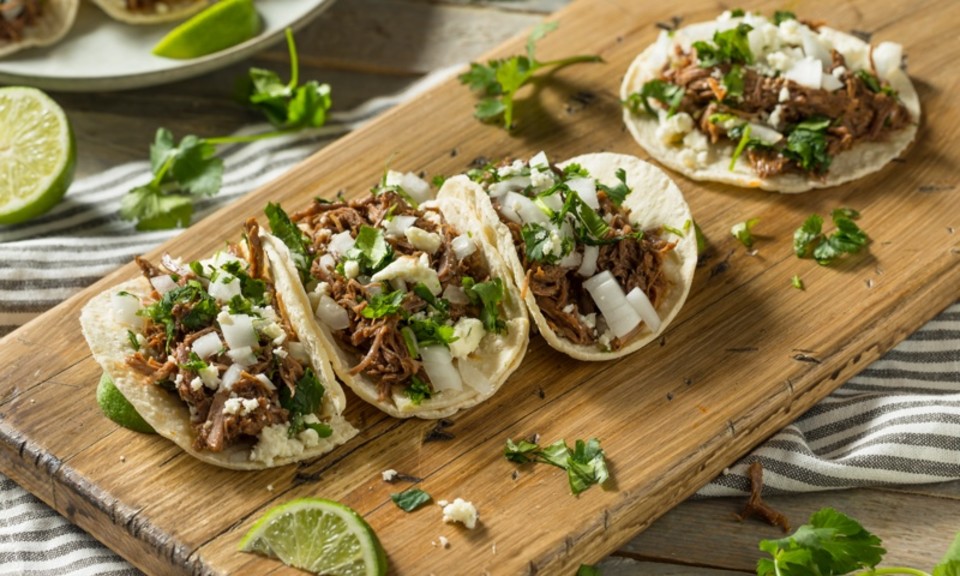 Christine
If I could, I would eat at that place every day. I never had a problem ordering from there and the food is delicious. The chicken burrito is the greatest thing in the world and the chips & guacamole are perfect. I hope you all one day get to experience the greatness of this place.
Sue
I never, ever write reviews for restaurants but this was incredible. Best tacos (I recommend steak and chorizo) I've ever had via delivery and such fresh guacamole. I used to live in East Village and was a little weary of my delivery options out in Brooklyn but not anymore!
Sandra
Excellent food. The burrito was amazing, and the chicken inside was flavorful and well-cooked. I almost didn't get the chips and guac but I'm glad I did - fresh guac, and TONS of it, with just a tiny kick from small bits of jalapeno inside. Amazing. New favorite place.
Ivelisse
Their huaraches and flautas are amazing. The delivery was on time. It's really hard to find a good mexican food restaurant that delivers nearby who won't give you soggy, cold food. Their horchatas are good as well.
William
seriously amazing. Just took a few bites and had to write a review. The 2.50 tacos are incredible and the chicken soup with chunks of fresh zucchini and carrots and peppers is amazing. Great job guys. Seriously.
James
Great...again...like always!!!!! See my other reviews here, I literally order 5 times a week from CHINANTLA n they are the absolute greatest, MOST LEGIT, authentic Mexican restaurant around! Other people's reviews that said ppl answered the phone n pretended not to speak English -- VERY IMPORTANT, THEY ARE NOT PRETENDING!!! They don't speak a single word of English n I don't speak Spanish so there can be miscommunication sometimes but they're not trying to screw with anyone or pretend -- they r just super legit non English speaking folks that make insanely good food. I've even been there several times n it is true, they speak no English. The fact that they speak no English n I speak no Spanish n I still order from them 5 times a week for almost 2 years now...should tell u how good their food is. I'm n ex chef n very uptight about food so I'm a great barometer for a place. If I like it, almost anyone else should because I'm a tough critic. Food is art n these guys r artists. I ordered last night again lol. Sopes con carne is so insanely good with the roasted pork!!!!!! WE LOVE CHINANTLA!!!!! :-)
Nadian
wao wow ok let me start by saying...I forgot what i was going to say lol
ok li want to start by saying my boyfriend does not like Mexican food but he loves this Restaurant so much he put it on the top of his Seamless food list above Chinese food he's part Japanese so thats saying a lot. describing the food HERE WE GO..

we got a beef Cemita, chorizo Sopes and Chips and Guac
the beef OMG i never seen him have such a good admiration for food ever he said lets get another one right after his last bite i must admit the Chorizo Sopes took me back to San-Diego i love it like really really love it. and the Chips and Guac, i had to fight my boyfriend's greedy needy hands all night when just yesterday he said he would never eat chips and Guac from anywhere other than Chevys ha ha guess he has to eat his words literally.
even the delivery guy knew it was going to be awesomely-delicious just by the way he handed me the food.

hashtag i love this place hashtag give me more hashtag food coma
Mauricio
I never really give 5 stars, but this is an exception. I ordered chicken soup, one beef taco, and sope. Even tho the sope isnt that good, the taco is 9/10 legit mexican, and the soup is 9.9/10 legit. Yes, im mexican and chipotle is 3/10 legit mexican (dont get me wrong, still real yummy).

This restaurant serves beef tacos and chicken soups that are really legit. Im so impressed. I dunno about the other dishes, but these two.... great stuff.
Malcolm
This place isn't super close to me, but I order from them anyway because it's hands-down the best Mexican within a 1.5 mile radius (I'm in south Bed Stuy). Fresh ingredients, simple recipes, and delicious sauces -- everything I look for in a Mexican meal. Food frequently gets here faster than when ordering places 2-3 blocks away. And for what you get, it's quite affordable!
John
The absolute finest and most tasty, authentic Mexican food u can get on Seamless. The moles, the tortas, cemitas A+++ the only other way you can get this good is if you travel to Queens or Sunset park. Hands down my fav spot, love you guys and the dedication you put into your craft.
About us
Dinner, Lunch Specials, Mexican
Today

Delivery: 10:00 AM - 10:00 PM

Takeout: 10:00 AM - 10:00 PM

Delivery

Monday:

10:00 AM - 10:00 PM

Tuesday:

10:00 AM - 10:00 PM

Wednesday:

10:00 AM - 10:00 PM

Thursday:

10:00 AM - 10:00 PM

Friday:

10:00 AM - 10:00 PM

Saturday:

10:00 AM - 10:00 PM

Sunday:

10:00 AM - 10:00 PM

Takeout

Monday:

10:00 AM - 10:00 PM

Tuesday:

10:00 AM - 10:00 PM

Wednesday:

10:00 AM - 10:00 PM

Thursday:

10:00 AM - 10:00 PM

Friday:

10:00 AM - 10:00 PM

Saturday:

10:00 AM - 10:00 PM

Sunday:

10:00 AM - 10:00 PM